Please note the operation and licensing of this event is held by Cream Global Ltd   
Show Info & FAQ's
Where is On The Waterfront?
On the Waterfront is a series of ticketed shows running from Thursday 29th June to Sunday 2nd July 2023 and located on Liverpool's Pier Head, in front of the Three Graces.   
Where is the nearest train station?
Liverpool James Street Station is located just over the road from the waterfront, a few minutes' walk from the entrance.  
What is the age restriction? How old do you have to be?
All shows at On the Waterfront are strictly 18 and over. Challenge 21 in operation so please ensure you bring valid Photo ID as you will be asked.  
Can i bring a bag with me?
Only one bag, no bigger than an A4 piece of paper, is permitted into the event.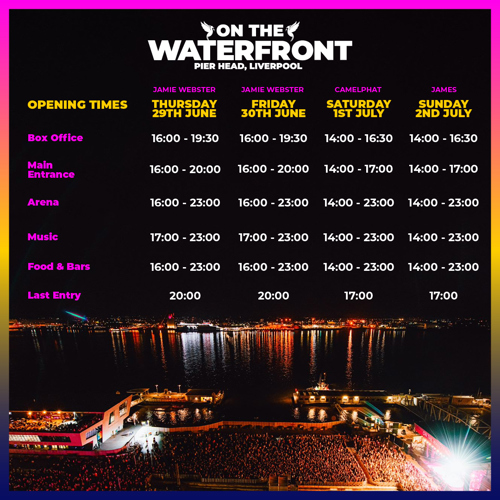 Last entry into the festival is as follows:-  
Can I bring food & alcohol?
No, only food and drink purchased within the event arena can be consumed.
Will there be food & drink available on site?
Yes there will be numerous food concessions on site serving everything from Pizzas, Chicken Wraps, Crèpes, burgers, Chinese and vegetarian options. Plus various drinks will be sold from the bars including beers, cider, wine, spirit, and soft drinks. 
Is there parking at the event?
There will be no parking at the Pier Head during the event, so we kindly ask you to please use public transport or use the various car parks located around the city centre.
Can i bring a camping chair?
Camping chairs are not allowed into the event. There is some fixed seating around the event arena.  

Small umbrellas are permitted, however large/golfing umbrellas are not permitted.
Driving Licence – A full or provisional driving licence which is within date. 

Passport – A passport which is within date. 

Any identification card bearing the PASS logo – more information on the pass scheme website 
A national photo identity card issued by country of origin (other than the United Kingdom) 

Armed Forces PHOTO ID Card 
*Please note that customers on site may be asked to produce ID at any point during the event so we advise ALL customers to bring valid ID. In addition, we operate a Challenge 21 policy so please ensure you bring an acceptable form of proof of age ID. 
When will set times be released?
Offensive and full face covering masks are prohibited.   
Can I leave the event site and then come back (i.e., are there pass-outs)?
There are no pass outs at On the Waterfront. If you have a ticket and you leave the event site, you WILL NOT BE ALLOWED RE-ENTRY
If you have lost something at On the Waterfront please visit Lost property which is located at the Welfare tent (located near to the bar area). After the event, please email lostprop@cream.co.uk with a full description of the item you have lost and your contact details, if the item has been handed in, somebody will get back to you.    
 
Lost property will be kept for a maximum of 2 weeks after the festival finishes. Any uncollected items will be donated to charity.  
Can i get disabled access to the event?
To apply for Disabled Access for this event you will need to provide one of the following documents to prove your eligibility and apply by emailing your request and supporting documentation to info@onthewaterfrontfestival.com  : 
•         DLA /PIP letter from the Department of work and pensions (front copy only) 
•         Medical professionals' letter 
•         D/deaf or blind registration 
•         The Access card  
Once this has been received, we will assess the application and process the personal assistant ticket. 
If you have not already purchased your ticket, you can do so via Ticketmaster, send over your order number so we can link the account with your personal assistant application. 
Please also let us know your access requirements, so we can ensure necessary provisions can be put in place. 
Please note that pregnancy or temporary injuries such as a broken leg do not qualify for disabled access.  
Applications close on Monday 19th June.  
I do not require disabled access, but have prescription medication I need to bring with me, what should I do?
Simply bring your medication along with a valid prescription to show on entry. Please note medications must be sealed. For example, a half empty blister pack of tablets is allowed with valid prescription, but loose tablets are not.  
On The Waterfront is an outdoor show located on the Pier Head, next to the river. As the British weather can be unpredictable and there are no indoor areas at the event, we recommend people dress for the weather. We hope it'll be sunny and warm but prepare for rain and wind just in case! 
Is there a cloakroom at the event?
There are no cloakroom or locker facilities at the event. 
Can i charge my phone anywhere at the event?
There are no phone charging facilities at the event. We recommend bringing a small portable charger. 
I no longer wish to attend; can I get a refund? Can I sell my tickets?
As per the festival terms & conditions, tickets are non-refundable. We cannot advise on third-party ticket sales.  
I am buying tickets on social media/from a friend/from a third-party ticket website. Are these tickets valid?
We can only advise on tickets purchased from official outlets. We strongly recommend that you do not purchase tickets from unofficial outlets, social media platforms or auction sites. There is no way of confirming if the tickets you are purchasing are genuine, and we cannot assist if your tickets are not valid or fraudulent. Invalid or fraudulent tickets will be refused access to the show. 
When will I receive my ticket?
All tickets are paperless for On the Waterfront.  
If you have purchased your ticket via: 
Ticketmaster – 

Tickets will be available to download 48 hours before the event via the app and are also accessible via the website, and digital wallet.

 
Skiddle

– Tickets will be available to download at 9am via the confirmation email received when ordering 2 days before the event will take place. Alternatively, tickets will be available to download via the Skiddle app. 

 
 

Ticket line -

Tickets will be sent to you via email around 1 week before the event as an e-ticket

 
Ticket Quarter

- Tickets will be sent to you via email around 1 week before the event as an e-ticket

 
I lost my ticket, what should I do?
On the Waterfront is paperless tickets only.   
If you have purchased your tickets via Ticketmaster or Skiddle you can download your tickets via the app. If you have purchased via Ticketline or Ticket Quarter we advise contacting your ticket agent directly who will be able to assist. If you do not have your ticket on arrival at the event, head to the Box Office on the day, this will be located next to the entrance lanes and present your order reference number and valid photo ID. Providing your ticket has not already been scanned, your original ticket will be cancelled, and a replacement ticket will be issued. 
I have an enquiry regarding my ticket, who do I speak to?
Please contact the agent you purchased your ticket from directly. Cream does not have access to ticket bookings so cannot assist directly with any ticket issues.  
I am a local resident and concerned about noise and disruption from the event
Extensive efforts have been made to minimise disruption to residents and we are working closely with Liverpool City Council and Merseyside Police to ensure the event does not cause any issues for local residents. Further information will be issued closer to the event.  However, if you have any questions please email residents@onthewaterfrontfestival.com  and someone will be able to assist.
I have a food/trade stall and would like a pitch at the event, who do I contact?
If you are interested in operating a food concession at this year's festival, please contact D&J Catering who will respond to your request in due course  beth@djcatering.co.uk  / Tel: 0116 247 8177
Can I bring my dog to the event?
There are strictly no animals allowed into the event, except for assistance dogs. Please contact info@onthewaterfrontfestival.com if you have an assistance dog you need to bring to the event
Will there be searches on entry?
On The Waterfront is dedicated to keeping our customers safe, and we operate a zero-tolerance policy on illegal substances or prohibited items. All customers will be subject to bag and dog searches on entry
I would like to work at the event, how can I apply?